Coverack
Coverack is a small coastal village and fishing port in Cornwall, built on both sides of a spur of rock that juts out into the sea. The small village of Coverack has several hotels and a youth hostel. There's a large, crescent-shaped beach in the sheltered bay, ideal for swimming and windsurfing - making the area a popular centre for watersports, particularly wind surfing, sailing and diving. For the thrill seekers in the family, kayaking and windsurfing lessons are avaiable at the Coverack Windsurfing Centre - which offers a range of RYA courses (windsurfing tuition for both beginner and advanced) - and the hire of Stand Up Paddleboarding Boards and Kayaks. The Coverack Windsurfing Centre, is located adjacent to the small harbour where small Fishing boats, rub gunnels with pleasure craft. Coverack's small harbour,t he old lifeboat house and slipway, are all built out of local serpentine rock, reminders of a past rich in maritime history.
The Coverack lifeboat rescued many from the Manacles: one and-a-half square miles of jagged rocks Iving just beneath the waves, which claimed ships such as the Mohegan in 1898 with the loss of 106 lives, and HMS Brig Primrose, lost in 1809 with 120 officers and men, the only, survivor being a drummer boy. Smuggling was a regular, and often necessary, way of life in these parts, and if you walk to one of the nearby coves, you'll be treading the paths of the coastguards and Preventive men.
You can enjoy a pasty and a pint at the hotel, named after a liner. "The Paris", which was stranded on the Manacles in 1899. Coverack has a number of small shops selling local crafts and cafes, where you can relax and enjoy the stunning views. The small church of St Peter, built in 1885 for £500, has a serpentine pulpit, a gift from the old serpentine factory along the coast at Poltesco.
The Car park is small - located at the side of the main B3294, where the roads enters the bay at the eastern end of the beach - just before the Bay Hotel. It is a pleasant walk along the main road from the carpark up to the harbour, along the edge of the main beach.
Coverack Beach
Coverack beach is is a small sand and pebble beach that is fairly rocky in parts. The areas of sand, make Coverack a good family beach, which is always popular with families. The beach has shallow shelterd waters that are perfect for young children to paddle around in, and at low tide the exposed rock pools provide a chance to explore and discover the life that inhabit this tidal zone, from whelks, to hermit crabs and shrimp
Coverack Beach is a Dog Friendly Beach, where pets are allowed all year round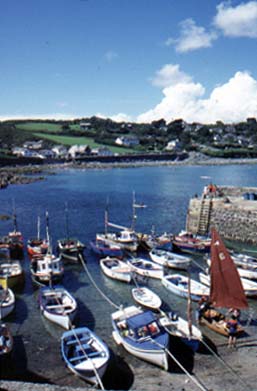 Coverack Harbour
Coverack Windsurfing Centre
Cliff Cottage Sunny Corner, Helston TR12 6SY · 01326 280939
Harbour Lights Cafe
Mill Road, Coverack,Helston TR12 6TE ·01326 280 612
The Wave Café,
The Cove, Coverack, Helston, TR12 6SX 01326 281526
The Paris Hotel- Oceanview Restaurant
The Cove, Coverack, Helston, TR12 6SX 01326 280258